REAL LEADERS®️ UNVEILS ITS 200 TOP IMPACT COMPANIES LIST OF 2022
Agrivida
to be honored at Global Event on February 24.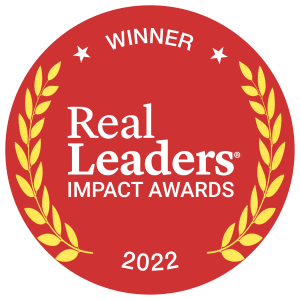 (Boston, MA) (January 12, 2022) – Real Leaders is thrilled to announce the newly selected winners of its 2022 Top Impact Companies from around the world. "Business leaders across the globe are rapidly discovering that to be competitive – and to grow and thrive – they must forgo shortsighted thinking in favor of a farsighted vision that takes into account their company's social and environmental impact," said Mark Van Ness, Founder of Real Leaders. "We are excited to welcome new and old companies alike to the impact movement, and into the Real Leaders Impact Awards community."
The 2022 list features a mix of respected impact brands of all sizes and from a variety of industries, including Traditional Medicinals, Hannon Armstrong and Ocean Brands, as well as Allbirds, Danone, and Warby Parker. SEE IMPACT AWARDS RANKING.
"We are deeply honored to be recognized by Real Leaders as an organization dedicated to making a positive global impact," said Rajiv Singh, Board Member of Agrivida. "Our commitment to building a more sustainable food system, where individuals around the world can access nutritious food with a smaller carbon footprint, drives our team to find innovative new applications for our groundbreaking biotechnology platform."
A virtual ceremony will be held on February 24, 2022 to honor the winners and will feature a keynote from Peter Diamandis, founder and executive chairman of the XPRIZE Foundation and executive founder of Singularity University.
ABOUT REAL LEADERS
Real Leaders is a membership community for impact leaders with a global media platform dedicated to driving positive change. It's on a mission to unite farsighted leaders to transform our shortsighted world. Founded in 2010, Real Leaders recognized early on that businesses bore a responsibility to be as cognizant of their impact on employees, society, and the planet as they are on their bottom line. Real Leaders is a B Corporation, member of the UN Global Compact, and is independently owned.
LinkedIn: Real Leaders
Instagram: @Real_Leaders
Twitter: @Real_Leaders
Facebook: @RealLeadersMagazine
Hashtag: #RealLeadersImpactAwards
ABOUT AGRIVIDA
Imagine it. Deliver it. Committed to building a better future for everyone, Agrivida scientists are experts in biochemistry, plant biology, molecular biology, agriculture, and nutrition. Dynamically addressing the needs of animal nutrition, health, and alternative proteins through its unique technology platform, Agrivida is delivering on its promise of innovative grain products that offer effective, simple, and convenient solutions more sustainably than ever before. The company's corn-based feed additive, GRAINZYME Phytase, is the first of many products that will benefit producers of poultry, swine, dairy and beef cattle, and aquaculture. For more information, visit Agrivida.com.