Better for partners
& investors.
For partners and investors, return on investment is critical.
As the earth's population grows, efficient production of meat, eggs, and milk is going to become increasingly important. That's why investors who possess the foresight to recognize the industry-changing potential of GRAINZYME® technology are seizing this opportunity to get in on the ground floor of a strategic venture with global reach.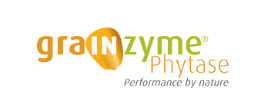 The breakthrough enzyme products we're bringing to market today are just the beginning for Agrivida. Our long-term vision encompasses innovations benefiting the animal health and nutrition industry, as derived from our technology platform. We see great potential for improving the nutritional value of agricultural crops fed to livestock and aquaculture. By focusing our efforts on primary nutritional inputs—like corn—we're poised to make significant strides that limit additional complexity, cost, and environmental impact.
Today, at Agrivida, we're concentrating on simplifying and optimizing feed enzymes, but that's only the tip of the iceberg. In the future, our core technology platform will be applied to producing other specialty feed ingredients and products for animal health, thus increasing Agrivida's value.
Agrivida continually searches out new ways to sustainably impact the food animal industry. Whether you are in the same business and want to partner or you represent investors looking to capitalize on the ever-increasing need to feed the world's population efficiently, we invite you to talk with us.